The YOU CAN SIT WITH ME kindness and inclusive campaign is an evidence-based, peer-led program designed to create inclusive and caring school communities.
Over 850 Australian schools have implemented the YOU CAN SIT WITH ME program to promote student wellbeing, safety and positive relationships.
YOU CAN SIT WITH ME is a highly visible yellow wristband with a life changing message….it is simple, safe and changes lives.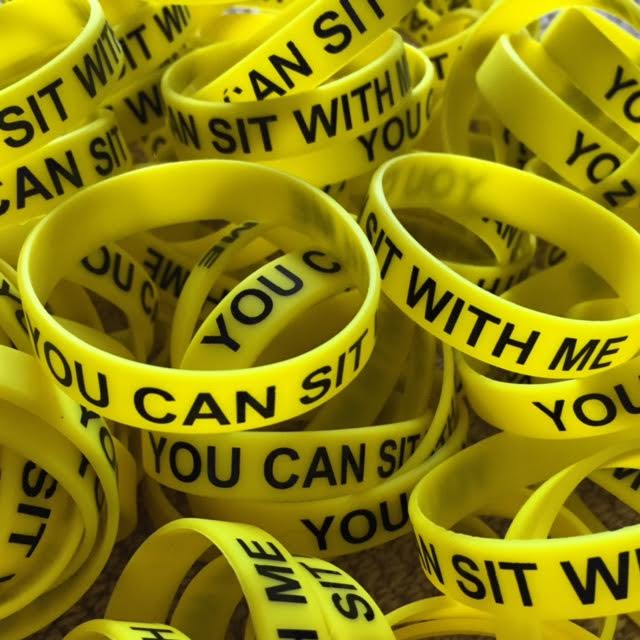 YOU CAN SIT WITH ME is the toolkit to embed inclusive behaviour in schools, sporting clubs and community groups.
YOU CAN SIT WITH ME is an inclusive and kindness campaign that embeds inclusive behaviour in schools, sporting clubs and community groups.
YOU CAN SIT WITH ME is a highly visible yellow wristband worn by children in schools, sports clubs and community groups to show that they welcome anyone to sit with them regardless of their age, race, religion, gender or disability.
Children are guided on what to do and say if someone comes to sit with them by asking "Are you ok?"
At no time does a child need to offer advice nor intervene in the problem, rather offering a safe place to sit and seeking help from a teacher or adult if needed.
HOW TO IMPLEMENT THE YOU CAN SIT WITH ME PROGRAM

1. Begin by hosting an information session with your school's faculty and staff. Highlight the importance of creating a welcoming and inclusive environment for all students. Make sure everyone understands the purpose of the program and how it will be implemented. We can provide all the material and resources free of charge.
2. Create a YOU CAN SIT WITH ME committee that will be responsible for setting up and maintaining the program. The committee should include the school's wellbeing leader.
3. Develop a plan for the implementation of the program. We suggest implementing the program at the beginning of term, around one of our events or even on YOU CAN SIT WITH ME day! This plan should include details such as who will be responsible for monitoring and supervising the program and how the program will be evaluated.
4. Make sure that the whole school community has access to the program. This includes providing information about the program for parents, students and teachers. This information is free and printable from our guideline tab and we have video content we can share with you too!
5. Implement the program and see for yourself how a simple yellow wristband with a life changing message changes lives and create an inclusive community!
Please contact us if you have any questions or require any resources or materials.
Meet Sophie Whitehouse- Sparks, founder of YOU CAN SIT WITH ME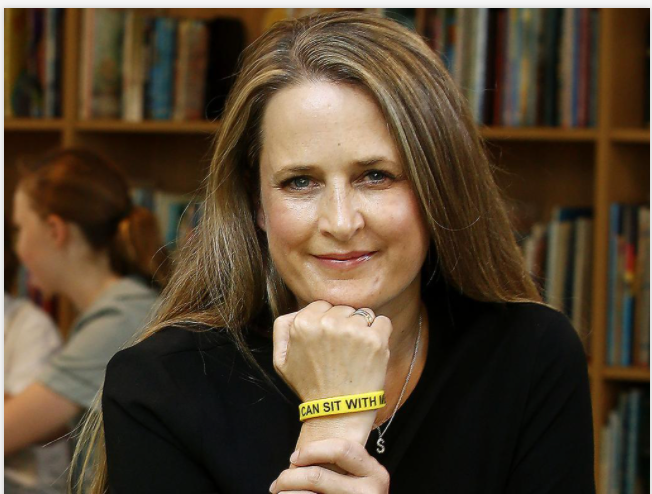 YOU CAN SIT WITH ME was founded in 2015 by Sophie Whitehouse-Sparks who has over 25 years teaching experience across the UK, Africa, Asia and Australia.
Sophie Sparks specialises in Private Tutoring, Online-Tutoring, Special Needs Teaching, Entrance Exams and Individual Assessments.
Throughout Sophie Whitehouse-Sparks' teaching career she has had the opportunity to work with children globally. Sophie Whitehouse-Sparks has worked with children in England, Ethiopia, Canada, Singapore, Hong Kong and Australia of varying ages, races, religions, disabilities and educational needs. It was through her work that she become aware and deeply concerned about children suffering from non-inclusive behaviour, bullying, anxiety, depression and loneliness as a result of feeling isolated.
After researching these problems, Sophie Whitehouse-Sparks found the statistical evidence to support that what she was witnessing in the playgrounds, classrooms, sporting clubs and communities was very much becoming a worldwide epidemic.
Sophie Whitehouse-Sparks created the very simple message 'YOU CAN SIT WITH ME' in response to non-inclusive behaviour and bullying and believes by bringing community groups together, we can change children's lives.
YOU CAN SIT WITH ME is a fully registered Australian charity with DGR status.